Al-NanoFunc Members at the EMRS conference in Strasbourg
Al-NanoFunc members Vanda Godinho, Lola Gonzalez‑Garcia, Youssef Oulad-Zian and Ana Borras attended the European Materials Research Society Conference in Strasbourg.
Vanda Godinho presented a poster entitled "Magnetron sputtered amorphous silicon films with closed porosity: microstructure and optical properties" in symposium A, a work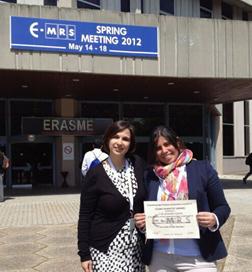 supported by Al-Nanofunc.
 Lola Gonzalez-Garcia presented her poster at symposium O. With the poster entitled "Gold plasmon resonance modes in patterned dichroic thin films". Lola won the Symposium O student award.