Sergio Lozano Perez from Oxford University visits the Materials Science Institute of Sevilla.
Sergio was strongly involved on the org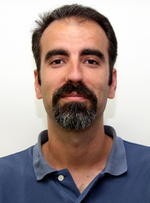 anization of the post-graduate training on Nanofilms Characterization where he gave practical and theoretical lectures. He was also participating in the advanced training on the last version of the DM suite from GATAN devoted to last capabilities on Energy Filter Analyzers in Electron Microscopy. He was also one of the invited speakers of the 1st Al-NanoFunc Workshop.
Stéphane Lucas from University of Namur starts a 6 weeks stay in Materials Science Institute of Sevilla
Stéphane was one of the invited lecturers in the 1st Al-NanoFunc Workshop. During his stay he was very active in lab working in thin films deposition and characterization. Stéphane interacted strongly with the young researcher in nanostructured coatings fabrication and with the post-doctoral and technical staff in electron microscopy facilities.
This was also a great opportunity to discuss about simulations on thin films growth.